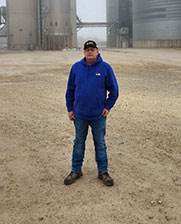 Clear Lake Man Treated Successfully For Atrial Fibrillation Credits Cardiologist Dr. Michael Spooner For Managing His Care So Well
—Vern Toohey
In late 2019 Vern Toohey, 59, of Clear Lake, was having very rapid heartbeats and feeling exhausted. Said Vern, "I couldn't walk across the house without feeling really tired."
Vern, a coop grain elevator manager, married with a daughter and two granddaughters said it came on gradually. Said Vern, "I didn't think much of it. I thought I was just getting older and tired. I went to nurse practitioner, Kelly Christianson, in Britt, Iowa at the Hancock Medical Center. She said my heartbeat was very rapid and referred me to Ami Frohling, NP, who subsequently referred me to cardiologist Dr. Michael Spooner at the Mason City Clinic. Dr. Spooner diagnosed me with atrial fibrillation or A-fib."
Atrial fibrillation is the most common cardiac arrhythmia. Approximately 2.7 million people in the United States are affected. If untreated, it could lead to blood clots, stroke, heart failure and other heart related complications.
Dr. Spooner recommended Vern have a cardiac ablation which is a medical procedure used to correct heart rhythm problems (arrhythmias). A cardiac ablation uses heat or cold energy to create tiny scars in the heart to block irregular electrical signals and re-store a typical heartbeat. Said Vern, "It seemed to be working, but then at a follow-up appointment, Dr. Spooner discovered it hadn't completely worked. My heart-rate was still rapid."
According to Dr. Spooner, "Sometimes A-fib ablation patients will need a second ablation. In Vern's case the second and third procedure we performed was a combined procedure called a Convergent Ablation. During this procedure for Vern, the first part was performed surgically by a cardiothoracic surgeon on the outside of the heart chamber and the second ablation I performed treated the veins on the inside of the heart. It was this combination that ultimately led to the patient's success."
Said Vern, "It worked 100%."I am fine now. I am good as I was way before my A-fib symptoms started interfering with my life. I can do anything I want to now. I play alot of golf. My job can be very physical, but I can do anything I need without losing breath and pep. I can keep up with my granddaughters. I am still on one medication, metropolol as a precaution."
Said Vern, "I didn't think I'd feel like this again. I told Dr. Spooner, ' I am glad you were you.' "Dr. Spooner is very personable and explains things very well. He is an outstanding doctor and took tremendous care of me."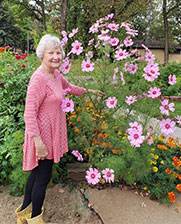 New Aortic Valve Replacement Procedure Called TAVR Giving Patients Their Quality of Life Back
—Rosalyn Barron
Mason City Woman Has Her 'Sparkle' Again
Rosalyn, 83, of Mason City, is a mother of three, grandmother of six, and was a regis-tered nurse at Mercy for 30 years.
"Over the last three years I was short of breath and getting bad chest pains. I had a stent placed in September 2021 for some blockage in one of my arteries, but I was still getting these worrisome symptoms," said Rosalyn.
"I recently had an ECHO, an important heart test that shows what all of your arteries and valves are doing, and it showed a sticky aortic valve. My cardiologist Dr. Fayez Siddiqui said that I would be a good candidate for a Transcatheter Aortic Valve Re-placement, also called TAVR."
Said Dr. Siddiqui, 'TAVR is for people who have aortic valve stenosis, a condition when the heart's aortic valve thickens and calcifies preventing the valve from opening fully and limiting blood flow from the heart to the rest of the body. Aortic stenosis can cause chest pain, fainting, fatigue, leg swelling and shortness of breath. It may also lead to heart failure and sudden cardiac death."
TAVR involves replacing a patient's damaged aortic valve with one made from cow or pig heart tissue. In some cases, a TAVR biological tissue valve may be placed into an existing biological tissue valve that is no longer working.
The procedure is similar to a stent procedure where the surgeon will guide a catheter to the heart and aortic valve via the groin to insert an expandable replacement valve which pushes away and takes the place of the diseased aortic valve. It is typically a 2 hour procedure with an overnight stay for patients for observation.
"It has been like a second birth. I went to one of my support groups the other day and one of the gals in the group said, 'You have a new sparkle. You are sparkling.' I really feel that way," Rosalyn said.
"When I went in for my follow up appointment to the TAVR surgery, Dr. Siddiqui told me that I can do anything I want to do. The shortness of breath and my chest pains were gone. I went home and started gardening. I had two hydrangeas I wanted to plant, but I had to pull out two rose bushes first to plant them. I did it all."
"As an inventional cardiologist it is the most gratifying and satisfying procedure I can do. The patients are elderly, but they are active and independent, yet limited in what they can do. For most patients it is a 'day and night' difference. Soon after the proce-dure they can go on a stroll, they can spend quality time with their families, they can play with their grandkids," Siddiqui said.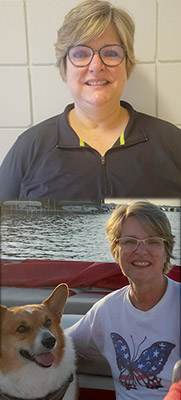 Mother Of Four And Special Education Teacher Loses 100 Pounds Through Gastric Bypass Surgery, And Feels Happier Than Ever
—Lisa Buss
Clear Lake resident and special education school teacher Lisa Buss, 56, reached a high of 280 pounds. Said Lisa, "When I was younger I was able to eat anything and not gain weight. Then as I got older and had my kids I started getting heavier and heavier, and it was very hard for me to lose the weight on my own." On a 5'7" height Lisa was 150 pounds over a healthy weight.
After gastric bypass surgery and changing her eating habits, Lisa is now 180 lbs., well onto her goal of 150 lbs. "More than the weight loss, I am just a happier person now," said Lisa.
"Before the surgery I had high blood pressure and acid reflux disease. The day after the surgery I stopped taking the Prilosec for acid reflex and the high blood pressure medication," said Lisa.
"I was wearing a 2x women's shirt; a size 22. I now have a size 14 (blouse) that is too big. I haven't worn a size 12 or 14 for 28 years. I am relieved to not shop in the Plus Women stores. I actually never went out to the store and shopped. I ordered everything online. Now I am going into stores and trying different clothes on."
Said Lisa, "The other day, my mentor who works with me at Clear Lake Elementary school said to me 'You used to come into my office with your hand on your stomach and completely out of breath. I was worried you were going to have a heart attack. Now you look like you feel so much better, and happier.'"
"It is work losing this weight even with the surgery. You have to change your eating habits. I haven't eaten bread, potatoes, rice or pasta in six months, and have no desire for it. Six weeks after surgery I was going to the gym and lifting. I can now do squats with a 30 pound weight in my hand," said Lisa.
"My primary care physician was the first person to suggest weight loss surgery to me and recommended I talk to Dr. Matthew Fabian, a bariatric surgeon at the Mason City Clinic. During my first consultation he asked lots of questions about my health history, and I talked with the dietician and nutritionist as well who continue to be part of my post-surgery care team. I have had no complications from the surgery," said Lisa.
"Every time I see my daughter she says, 'you are so little; you are smaller than last time I saw you.' My husband says he is proud of me."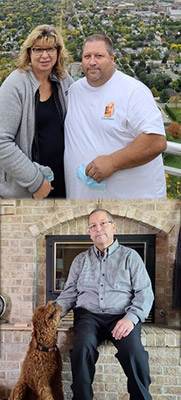 Weight Loss Surgery Helped A Fort Dodge Man Lose 100 Pounds, Bring His High Blood Pressure To Normal, and Eliminate Knee Pain
— Scott Kuhlman
In 2020, Scott, 54, of Fort Dodge, at 5'8" weighed 342 lbs., his blood pressure was so high his doctor told him he was at high risk for a stroke, and he had extreme knee pain. Today Scott weighs 213 lbs., his blood pressure is normal, and all of his knee pain is gone.
"It was the visit to the doctor when they told me my blood pressure was 212/110 (nor-mal 120/85) that got me serious about losing the weight. I want to be around for my kids and grandkids."
Married for 33 years, Scott is a father of five, grandfather of four, and a production supervisor in a print shop. At 5'8", a normal weight is around 170 – 190 lbs.
"When I got married in 1989, I weighed 190 lbs. Then I broke two of my legs in an acci-dent which had me immobile for awhile,. I was also not the healthiest eater so the weight just kept coming on. I nearly doubled my weight over three decades."
Scott was referred by his primary care doctor into Gregory Grimberg, MD, bariatric surgeon at MercyOne North Iowa Cardiology specialty at the Mason City Clinic. "Dr. Grimberg gave me my options of surgery, but also didn't sugar coat the commitment I needed to have leading up to surgery and after surgery of changing my lifestyle."
Scott got a gastric bypass which is a weight loss surgery in which the stomach is divid-ed into two sections. One is a small upper pouch, which is connected to the small intes-tine so that during a small meal, food bypasses the stomach and causes a full, satisfied feeling. The second is the bypassed part of the stomach, which is left intact and may be used in the future if needed.
"For the first month after the surgery I was on a strict diet of liquids only and then tran-sitioned into solids. I have had to learn to eat smaller portions and slower. There has been some real discomfort in eating and swallowing, but it is getting better and better. And the good news is that I have lost 100 pounds in 8 months."
"Before the surgery, my tank was always on empty. Even to bend over and tie my shoes was a huge effort and I would get shortness of breath. My wife would ask me to help her in the garden, and the process of getting down on the ground and back up was so difficult and painful that I didn't want to do it. Even with golfing, which I love, to reach down and get the ball out of the cup left me breathless."
"I have not had a soda or pop in 1 1/2 yrs., I stay away from fried foods; I don't eat much bread and have completely eliminated pasta no bread. I eat alot of green vegeta-bles and fruit."
"I am now buying 36 waist pants, my wife and I regularly walk our dog, and I am in the process of purchasing an e-bike for exercise."
"The response from my family and community has been really good. During Covid we would go to church over Zoom so all people could see was my head. When I walked into church after 2 years, people didn't even recognize me."
"I have had follow ups with Dr. Grimberg, and the nurse and nutritionist who have been very helpful to me post surgery. "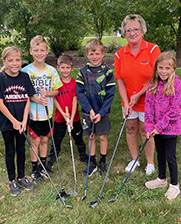 Garner woman gets back to active life quicker after having a new & innovative bunion surgery, performed only at the Mason City Clinic.
—Jane Peterson
Jane Peterson 68, of Garner Iowa loves to golf, but it was getting harder and harder to do it with the bunions she had on each foot. "My feet would just get tired much sooner when I was golfing. And I was working full time at a factory, standing all day on a cement floor which became very painful. I just wanted to get my feet into shape by retirement so I could continue to play golf comfortably and be active with my 10 grandkids," said Jane.
Jane was referred to Mason City Clinic podiatrist Dr. Edward Henrich through a friend. Dr. Henrich is the only podiatrist in Northern Iowa to perform a new type of bunion surgery called the Lapiplasty® Procedure which corrects the root of the bunion problem and helps get people onto their feet much sooner than with the traditional bunion surgeries.
Said Dr. Henrich, "In traditional bunion surgery, known as the 'Lapidus' approach, the bone is cut in half and the top part is pushed over, treating the bunion symptoms or bump. This surgery can dramatically relieve the patient's pain, but it does not address the cause of the problem (the unstable joint) so there is a good chance that the bunion will come back. With the Lapiplasty® Procedure, we correct the entire metatarsal bone – in all three dimensions, restoring it to its proper alignment, while naturally removing the bump and straightening the toe."
Once the metatarsal bone is corrected, a titanium plating technology is used to permanently secure the unstable joint in place. Since the procedure uses advanced fixation methods, most patients are able to walk just days after surgery without casts; up to 6-8 weeks earlier than with the more traditional Lapidus approach (which was previously the only option for addressing the unstable joint). In most cases, patients can quickly get back to work and normal life.
"Both of my surgeries were on a Tuesday and by Friday of the same week I was in one of those walking boots. It allowed me to mobile – walk, go shopping, and get around the house instead of being on crutches or on a knee scooter," said Jane.
"The pain is gone. Now I can wear nice summer sandals showing my feet where in the past I would find sandals that covered my bunions. I am golfing and will continue to with all my grandkids." Jane said.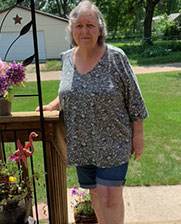 Local Woman Gets A Total Knee Replacement Enabling Her To Step Back Into The Joys Of Her Life!
—Suzanne Johnson
Suzanne Johnson, 74, of Mason City, had been struggling over the last few years to do the things she loves to do.
"I couldn't do any type of walking. If my husband and I were going to a fair or flea market, I would always have him bring the electric scooter for me. It was limiting — not the day to day things around the house — but going out and doing the things that I love to do," said Suzanne.
Suzanne experienced aching pain in both of her knees and it significantly limited her mobility. She was familiar with Mason City Clinic's orthopedic surgeon Dr. Darron Jones because he had repaired her husband's rotator cuff tear four years prior that another surgeon was unwilling to do. Her husband had felt great ever since, and they felt comfortable with him.
"Dr. Jones is so easy to talk to. He never seems like he is in a hurry. He answers all my questions," said Suzanne.
Initially Suzanne got cortisone shots in both of her knees from Dr. Jones to alleviate the pain. It seemed to work in her right knee, but the pain in her left knee returned quickly. So it was at that point that Suzanne and Dr. Jones together agreed that getting a total knee replacement in her left knee would be the best solution to her extreme pain and continued difficulty walking.
"I had the surgery in July — they got me up and walking quickly after the surgery. I am now in the middle of my rehab and recovery,' said Suzanne. "I haven't been shopping in over a year. I am looking forward to the fun of walking around a store, a flea market or fair and not having the pain anymore that I have had for so long. I look forward to getting back to my active life."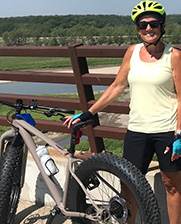 Garner woman says her 'Tummy Tuck' not only gives her self confidence, it's the motivator for staying healthy.
—Renee Denny
Renee Denny, 59, of Garner, Iowa, a retired school administrator, wants to be a healthy and active grandmother one day.
"Five years ago I had gastric bypass surgery and lost 90 lbs. I started at 240 lbs. Although I was pleased with the gastric bypass results, some of my skin was loose and sagging, and was getting caught up in my belly button and creating infections," said Renee.
Renee's surgeon referred her to Dr. Rene Recinos, a board certified plastics & reconstructive surgeon. Said Renee, "Dr. Recinos and I talked and he suggested that in addition to the removal of my loose hanging skin and fat from around my waist or "belt" line, I may want to consider an abdominoplasty or 'tummy tuck' as well. He said he could do both procedures at the same time under the same anesthesia."
In January of 2019, Dr. Recinos performed both a panniculectomy which removed her loose and sagging skin and a 'tummy tuck' on Renee.
"I love my appearance now — it has increased my self-confidence and I love how I look in my new clothes. Most importantly, it has given me the motivation to keep weight off. I lost both parents at young ages – 61 & 71 years old – to cancer. So I am very health conscious. I hope to be a grandmother one day and my goal is to be able to be active and play with them."
"Dr. Recinos has been absolutely fantastic. I just adore him. He is kind, thorough, nothing short of motivating, encouraging and complimentary. He went the extra mile and wrote a letter to my insurance company to ensure they would cover my hospital stay."
"He cares about me. I trust him completely. I am appreciative of everything he has done," said Renee.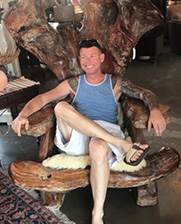 Local man who struggled with the chronic symptoms of sleep apnea gets significant relief with new implantable device
—Keith Messenger
Keith Messenger, 44, a business owner in Mason City, was not getting quality sleep, and it was having an effect on his daytime productivity. "For five years or more I would crash (fall asleep) by 12 noon everyday." Keith was diagnosed with sleep apnea; he was told that his tongue would fall back while he was sleeping blocking his airway during the night. He was prescribed the CPAP machine. Said Keith, "I tried 16 or 17 CPAP face and nose masks. The CPAP was so loud and the masks wouldn't stay on my face. I was also prescribed a mouthpiece and that didn't work either."
Keith made an appointment with ENT physician & sleep specialist Dr. Philip Lee. Said Keith, "Dr. Lee listened to my frustrations using the CPAP and all about my chronic symptoms. Dr. Lee was incredible; to the point, very clear and precise — and told me (and my wife) that I may be a good candidate for a new procedure called the Inspire® Implant."
The implantable Inspire® device monitors a person's breathing and delivers mild stimulation to the hypoglossal nerve which controls movement of your tongue and other critical airway muscles. Inspire® stimulates those muscles, keeping the airway open during sleep.
Keith controls the implanted system using a small, handheld Inspire® sleep remote. The remote allows him to turn on Inspire® therapy before bed and off when he wakes up, increase and decrease stimulation strength and even pause during the night if necessary.
The procedure performed by Dr. Tim Dettmer was done outpatient. "I was in and out in the same day," said Keith. "Dr. Dettmer made the incision to place the Inspire® Implant on my chest without affecting my favorite Eagle tattoo. I was very pleased about that."
Once Keith got home he allowed six weeks for everything to heal and then activated the implant, and started feeling better almost immediately.
"I haven't felt better in years. I have more energy than I have had in five years. I am starting a new company. Everything for me has changed — mentally and physically."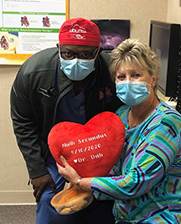 Kathy Shaffer was 'Nulli Secundus' or 'Second To None' When She Had Triple Bypass Surgery at MercyOne North Iowa Heart Center
—Kathy Shaffer
"I had no idea that I had any heart problems," said Kathy Shaffer, 71, of Mason City. But on the morning of September 3, Kathy had trouble catching her breath, and after a consult with her doctor was advised to get to the ER right away. Kathy had suffered a heart attack, and after having an angiogram it was discovered Kathy had seven blocked arteries and needed a triple bypass surgery.
Said Kathy, "Many men on my side of the family have had heart problems, but the women haven't so I assumed I was ok. I had experienced some pressure on my chest when walking or exercising for 15 minutes or more, but I thought I was just out of shape, or attributed it to my acid reflux. What I have learned is heart disease symptoms are different for women than men."
"The Cardiothoracic Surgeon at MercyOne North Iowa Heart Center and I connected right away. I felt confident with him. He was very attentive, and after the surgery checked in on me 2-3 times a day," said Kathy.
"I couldn't eat very much after the surgery; I really had no appetite, but my doctor told me I had to eat to keep my strength up. He said, 'What sounds good to you? I said, 'Maybe a pizza.' So, he took out his credit card and he said, 'Order a pizza for Kathy and all of the staff that are taking care of her.'
"My surgeon said I was his #1 and his wife was ok with that," Kathy laughed. "His wife even made me a pillow that says in Latin, "Nulli Secundus" meaning "Second to None" with the date of my surgery.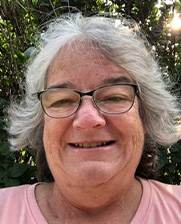 Charles City Woman Finds Relief From Sleep Apnea Symptoms and CPAP mask with New Procedure Called Inspire Therapy
—Janet Stangl
Janet Stangl, 64, a retired administrative assistant from Charles City, was diagnosed with sleep apnea in 2006. Said Janet, "I was in the severe sleep apnea zone. I stopped breathing 30-50 times per hour during the night. I was prescribed the CPAP. I tried different masks. The face mask made me feel claustrophobic; the little mask under my nose ended up giving me sores in my nose and my teeth started to hurt because I was clenching my teeth. I just struggled with the CPAP, and I never had the "aha" moment when I felt 100% better."
Janet went to MercyOne North Iowa Ear, Nose, Throat and Sleep Medicine department at the Mason City Clinic and talked to Dr. Philip Lee who told her he thought they may have something that could help her. That something was the new Inspire Therapy treatment. She was eligible for the procedure and so Dr. Timothy Dettmer, an ENT physician performed it on her.
It takes about 2-3 hours. A stimulation wire is connected to the hypoglossal nerve under the chin, a second breathing sensor is placed along the rib cage, and the stimulator is inserted into the upper chest wall and connected to the sensors.
"I use a remote device to turn Inspire on when I go to bed and off when I wake up." Janet said.
During obstructive sleep apnea episodes, Inspire delivers mild stimulation to the nerve which controls her tongue, opening the airway and improving airflow.
"I had the Inspire therapy treatment done in February 2020. Now I can go all day and not feel tired. I have a lot more energy and I can do a lot more things with the added energy. I can make it through the day without a nap. Before my Inspire treatment, by mid-morning I would be tired. Now I am busy working on projects for the inside and outside of our house, and we are making plans to travel and be with our grandkids," Stangl said.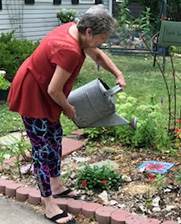 Mason City Woman Back On Her Feet Again After Hammertoe Surgery
—Rebecca (Becky) Groh
Rebecca (Becky) Groh, 64, only goes to one podiatrist in Mason City and that is Dr. Scott Donohoe.
"I have been to Dr. Donohoe three times – for my right and left foot bunions, and hammertoes, and recently he fixed a hammertoe on my left foot that was really bothering me.
I work on my feet about five hours most days as a checker at a grocery store. The hammertoe next to my baby toe on my left foot was so bad it was pushing my baby toe sideways. It was really started to bother me, and it was very uncomfortable to stand and walk on. So I went to Dr. Donohoe to have it looked at and ultimately had the surgery to fix it.
I love his personality. He explains everything. He is thorough, direct, and has a wonderful bedside manner. When he preps you for surgery he reassures you, but then there is no messing around.
All my surgeries were done on an outpatient basis and I wore a special boot afterwards to protect my toes.
Now I am back to all of the things I love to do without the pain – I garden, walk quite a bit, run around and do all my errands, and look for baby ducks with my great niece Evelyn Rose. And I am looking forward to traveling again in the near future with my sister – to Lake Superior, and the Grand Canyon," she said.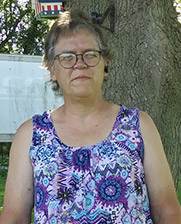 Iowa Falls Woman In Full Kidney Failure, Now Planning A Hiking & Fishing Trip Out West
—Credits Urologist Dr. Kevin Rier and Team For Her Recovery
Cindy Wingler, 55, was returning from a trip out west with her boyfriend when she didn't feel well and went to the ER at Hansen Family Hospital in Iowa Falls. She was nauseous and fatigued, and thought perhaps she was having another urinary tract infection which she had many of in her lifetime.
What Cindy found out was much more dire. She was in acute kidney failure and had sepsis because a massive staghorn kidney stone had filled her entire left kidney blocking any function or filtering of the kidney at all. Cindy was transferred to MercyOne-North Iowa in Mason City, and urologist Kevin Rier, MD became her doctor and surgeon.
Said Cindy, "Dr. Rier is the absolute best. He tells you exactly what is going on in ways you can understand. He is honest, you know. He does not keep anything from you." Cindy's staghorn kidney stone was bigger than anything Dr. Rier or his urology partners had ever seen. It took five surgeries and seven months for Dr. Rier and his team to fully remove all of the calculi built up in her kidney.
"They worked together as a team. I saw and talked with his partners Dr. Mulholland, Dr. Adams, and the resident Dr. Meyers too. I had excellent care," said Cindy. "Also my boyfriend doesn't like hospitals, but the staff at MercyOne North Iowa and the surgical center made him feel welcome and comfortable sitting through my surgeries."
"Now I feel great. My kidney function is improving. I still have my kidney. I drink a lot of water and am on low sodium diet. I am taking the full month of July off to visit my son and brother in Washington state. I am going hiking, fishing – taking a much needed mental break. I am on the road to recovery thanks to Dr. Rier."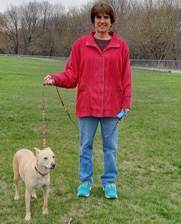 I would recommend Dr. Henrich to anyone.
—Lisa Fuller, Podiatry (Dr. Henrich)
I am back to work on my feet everyday, and I walk my dog everyday.
I don't have any pain.
Lisa Fuller, a mother of three from Algona, is on her feet a lot. "I own a can redemption center with my daughter and I am walking and moving eight hours a day.
I used to come home with my feet swollen red and in pain. Now when I come home, I go take my dog for a long walk," Lisa said.
Back in 2013, Lisa would take her shoes off after a long day and her feet and two big toes -which both had bunions on them- would be red and painful. She eventually had both surgically removed by podiatrist Edward Henrich, DPM at the Mason City Clinic.
Said Lisa, "Dr. Henrich has an outpatient clinic in Algona and that's where I initially came into contact with him for my big toe bunions. He has such a good bedside manner. He is very nice and thorough, and makes you feel comfortable. He really cares about you. The surgery and recovery takes a while, but it gave me my mobility back and I had less pain."
"This past year my left pinky toe started bothering me. I had what is called a 'tailor bunion' – a bone sticking out on the outside of my pinky toe. I decided to have it surgically removed by Dr. Henrich. The surgery was not as painful, but the recovery was a little longer because the bone is thinner. I had the surgery on November 16, was in a cast for six weeks, in a boot for six weeks, and then in a regular shoe. Now I am back to work on my feet everyday, and I walk my dog every day. I don't have any pain.
"I am also more comfortable with my feet showing in cute sandals in the summertime. I am so happy I have had the surgeries. I would recommend Dr. Henrich to anyone," Lisa said.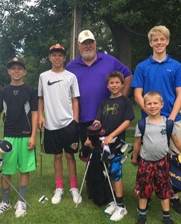 Dr. Mulholland Has A Great Team And They Know Exactly What They Are Doing
—Paul Bruns, Urology (Prostate Cancer)
I was treated with privacy, respect, and dignity
Paul Bruns of Clear Lake, a retired restaurateur and businessman, went to his Medicare screening with his family physician at the MercyOne Family Clinic in Clear Lake. To Paul's surprise his physician called him back to let him know that his PSA count (protein in his prostate) was very high and that he needed to see a urologist as soon as possible.
"I was lucky enough to get an appointment with Dr. Tim Mulholland, MD, at MercyOne North Iowa at the Mason City Clinic. At that first appointment I visited with him for well over an hour. He took as much time as we needed. The first step was to get a biopsy which showed there was cancer in 60% of my prostrate and it was an aggressive form of cancer," Paul said.
"I decided on surgery since the cancer had taken over so much of my prostate and it was aggressive. Dr. Mulholland performed a prostectomy (removing my prostate) robotically, which is less invasive than regular surgery, and it was a success. I was out of the hospital in three days," Paul replied.
"For five years after the surgery, I visited with Dr. Mulholland every three months to check my PSA. Now I go every six months. The cancer is undetectable which is great," said Paul.
"Dr. Mulholland is very professional. From the beginning, he patiently explained my condition, options for treatment, and potential outcomes. I appreciated that the process was handled in a straightforward method, and that I was treated with privacy, respect, and dignity. He has a great team and they know exactly what they are doing."
"He is also just exceedingly easy to visit with, and comfortable to talk to. He is a great doctor," said Paul.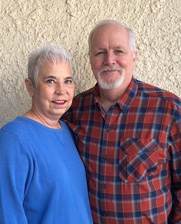 Dr. Scherb and his team are amazing
—Dan Rodemeyer, Orthopedic Patient
Dan Rodemeyer of Hampton was at work when the unexpected happened. While on the loading dock, a 4,000 pound steel I-beam fell onto his foot. Dan said, "I was wearing steel toe boots, but the sheer weight of the steel beam crushed my foot and broke two of my toes. It was extremely painful to say the least."
Dan initially went to the emergency room in Hampton. His foot had very severe soft tissue compression injuries, and there was an internal wound that was causing extreme swelling and pain. Although his big and second toe were broken, thankfully they were not compound fractures.
"After our visit to the ER, we were referred to orthopedic surgeon Dr. Michael Scherb at Mason City Clinic. He explained to my wife and me that my traumatic injury was going to be a long recovery period and that the most important part of the recovery was ensuring my wound would heal properly without any infection," Dan said.
Dan's wife Lu was at his side throughout the entire process. Lu said, "Everything was so well-explained to us about dealing with an open wound and broken toes. I wanted to be able to provide care for Dan at home, and Dr. Scherb kindly listened to my concerns and answered all my questions. He and the nurses were so compassionate. Everyone was interested in Dan's physical and mental comfort.
After four months of recuperating Dan was able to return to work.
Dan explained, "Dr. Scherb and his team are amazing. He was always professional, and thorough with us, and had an excellent bedside manner. We got a rock star doctor."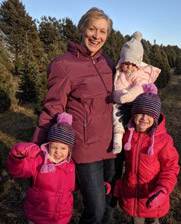 After Breaking Her Wrist In A Fall, Hampton Woman Gets Full Mobility of Her Hand And Wrist Back!
—LeAnn Strother, Plastics & Reconstructive Surgery Patient
In February 2019, 65-year-old LeAnn Strother, who is left-handed, fell and broke her left wrist. Because it was a complicated break, she was referred for surgery to Dr. René Recinos, a plastic and reconstructive surgeon and hand specialist at Mason City Clinic. Most concerning for LeAnn was whether this injury would impact all the things she loves to do with her hands.
The forearm consists of two bones, the radius and the ulna. The radius is on the thumb side and the ulna on the pinky side. According to LeAnn, "In my fall, my radius had compressed and it was too short, and I was not going to have good movement of my wrist. So Dr. Recinos had to shorten my ulna to match my radius length. In the surgery, he used some of the bone from my ulna to graft onto my radius.
"After surgery, my wrist was in a cast for six weeks, and I had to keep my arm raised and immobile much of that time because of swelling issues. Later, I wasn't able to move my wrist and fingers and had to work hard to get mobility and strength back, but I faithfully did the exercises Dr. Recinos said were important.
"I went to the hand therapist, Deb, at Mason City Clinic – who is awesome. Then I did occupational therapy at Franklin General Hospital in Hampton, and my occupational therapist there, Diana, was great too.
"When I went back for my six-month checkup, Dr. Recinos was very pleased. He said that I had better mobility than he had hoped for.
"Dr. Recinos was so kind and caring, and he explained things very well. I now have all my mobility back, no pain and barely any scars – he did such a beautiful job.
"I have been able to get back to doing all the things I love to do, including working part-time at the library, writing a publication for my church, cooking in my kitchen and keeping up with my eight grand-kids."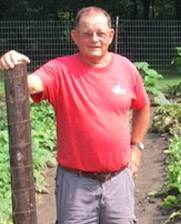 I feel great. The surgery was easy. Now I can fully enjoy my life with my wife – we garden, bike and visit with our three grown children and three grand-daughters.
—Duane Obanion, GERD Surgical Patient
In March 2019, Duane Obanion, 68, a farmer outside of Mason City, Iowa had an acid reflux attack. He aspirated into his lungs and got pneumonia. "I was in New York visiting my daughter when it happened and I ended up in the Urgent Care Center. When I got home I went to my family doctor and she put me in touch with Dr. Matthew Fabian, a general surgeon at the Mason City Clinic".
"After testing, Dr. Fabian told me I was a candidate for the LINX surgery to repair what was causing my GERD, or Reflux disease. He told me that two months after having the surgery that I wouldn't have to take any of the antacids or medications that I had been taking for years, ever again. And he was right."
"I feel great. The surgery was easy. Now I can fully enjoy my life with my wife – we garden, bike and visit with our three grown children and three grand-daughters."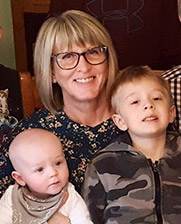 I feel great and have none of the heartburn I had for so many years and have lost 12 pounds.
—Kathleen Hanna, GERD Surgical Patient
Kathleen Hanna, 60, is a mother of four, grandmother of nine and a para-assistant at Forest City Elementary School. "I had heartburn with regurgitation for 40 years, have had an ulcer, and have been on heartburn medication for about that long too." Having been on heartburn medication for many years her physician was becoming worried that it was affecting the function of her kidneys.
"I went through a series of tests for reflux disease with Dr. Matthew Fabian at the Mason City Clinic and he told me my sphincter muscle didn't work at all." She was a candidate for a minimally invasive surgical procedure which implants a 'LINX' device of magnetized titanium bead around the esophagus just above the stomach. The quarter-sized flexible band of magnetic titanium beads open to allow food and liquid down, then close to prevent stomach contents from moving up, stopping acid reflux at the source.
"This is a game-changer when it comes to treatment of reflux disease," said Dr. Fabian, a general surgeon who has performed many of these procedures. "While medications can control or suppress acid production in the stomach, they do not address the cause of GERD (a weak sphincter muscle) like the LINX procedure does."
"I feel great and have none of the heartburn I had for so many years and have lost 12 pounds," Kathleen added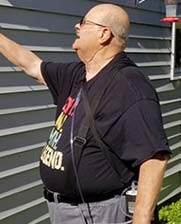 I Was Given 23 Years Of My Life…And Counting
—Gene Wagler, Cardiology Patient
Gene Wagler, a special needs teacher from Clear Lake, didn't have a history of heart problems before his heart attack 23 years ago. Gene said, "I didn't feel any pain that day but I had a "gnawing" sensation in my chest. Within hours Gene was in the Mercy One-North Iowa ER and Dr. Sam Congello, an interventional cardiologist at the Mason City Clinic was performing a coronary angioplasty on Gene, including the placement of three stents. "Dr. Congello has been taking care of me ever since," Gene said.
Gene has a check-up with Dr. Congello every six months, and Dr. Congello has done a number of other procedures on Gene over the years, including placing more stents. Gene said "Dr. Sam" explains things to me in a way I can understand. He's a straight-forward talker and he has given me 23 years of my life."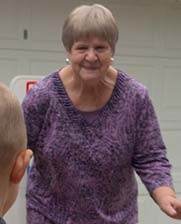 I Now Can Play Football And Basketball With My Grand Nephew.
—Jane Papouchis, Orthopedics Patient
Jane, 70, a retired nurse, is a very active person. She is a mother of one daughter and son in law, and has lots of 4 legged kids: guinea pigs, goats, Newfoundland dogs and 10 cats.
"I suffered with knee pain for a long time and would always take extra strength Ty-lenol. I found myself canceling commitments with people and events because my knee pain made me so uncomfortable," Jane said.
Jane finally went for an evaluation and scheduled a knee replacement surgery with board certified orthopedic surgeon Dr. Michael Crane in July 2016. After surgery she was very diligent with her physical therapy exercises.
"I now go to Zumba once a week; swim in the local YMCA pool twice a week; can easi-ly walk up and down stairs, and play football and basketball with my grand nephew on the weekends," Jane said.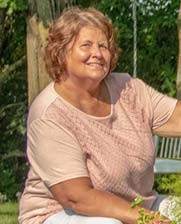 I Wanted To Dance Up A Storm At My Two Daughters Weddings, And I Did!
—Sheryl Borcherding, Orthopedics Patient
"We have a lot of flower gardens on our acreage, and I was having problems kneeling to weed. I couldn't walk long distances anymore and it was painful to get in and out of the car, walk up and down the stairs. Simple everyday tasks were hard. Eventually I was limping and in a great deal of pain." said Sheryl Borcherding of Emmons, MN.
Sheryl went to Dr. Michael Scherb, a board certified orthopedic surgeon at the Mason City Clinic, and discovered the problem was her left hip. She scheduled a hip replacement surgery.
"Within 3 weeks of my surgery I was completely off of pain meds and I didn't have to use my walker in my house," said Sheri.
"I am so thankful for Dr. Scherb. He is kind and caring, and I appreciate his expertise helping me get my life back to where it was before."
"My main goal was to dance up a storm at my two daughters weddings which were six months apart, and I did."
When Sheryl was in pain she avoided going outside. It was frustrating for her. Said Sheryl, "Now it's a joy to come outside and work in my gardens."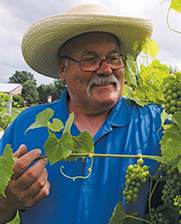 No more sour grapes about knee pain for me
—Gordon Lubbers, Orthopedics Patient
"I injured my knee as a teenager and had surgery. Then, as I got older, the pain returned and began affecting my routine and overall enjoyment of life. My doctor referred me to Darron Jones, MD, an orthopedic surgeon. After a thorough exam, he said I was a candidate for knee replacement. I had the procedure in late January 2014 and was back among the grapes by the beginning of March. I'm on my feet a lot and I operate heavy equipment. My knee feels better than ever, thanks to Dr. Jones."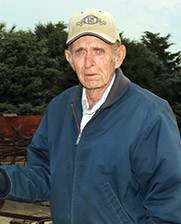 I didn't know the pain in my leg came from a ruptured blood vessel in my chest
—Lyle Miller, Cardiology Patient
"One snowy night about seven years ago, I felt a sudden pain in the back of my leg. I thought I could shake it off and went out to shovel some snow. After a few minutes, I went back inside and collapsed. My wife called 911 but the ambulance couldn't get to me because of the snow. My neighbors used snow blowers to clear the road and my driveway so the ambulance could get to me. When I got to the ER, Dr. Jeffrey Rowe, a vascular surgeon from Mason City Clinic, performed surgery on my aortic aneurysm and saved my life. Today I feel great, thanks to him."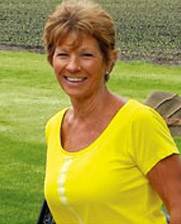 Bunion pain stopped Melody in her tracks
—Melody Wagner , Podiatry Patient
Melody Wagner loved walking until severe pain from bunions stopped her cold. She found a board-certified podiatrist at Mason City Clinic's Podiatry Department. Podiatrists perform leading-edge surgery for bunions and hammertoes, as well as advanced treatments for diabetic feet, heel pain, ingrown toenails and more. Melody was afraid of a painful procedure and a long recovery. Neither happened; she was able to get back on her feet quickly with the help and compassion of Mason City Clinic's podiatric specialists.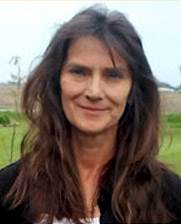 I trusted him 100 percent
—Donna Drake, Plastic Surgery Patient
Donna Drake lived with a growing basal cell skin cancer (the most common skin cancer) on her lower eyelid for three years. A family practitioner at Franklin General Hospital recommended Mason City Clinic's plastic and reconstructive surgeon, Dr. Mark Mulkey, who identified the cancer and performed the extremely delicate eyelid surgery to remove it and reconstruct her eyelid. "I went back to work 10 days later and no one noticed. He did a wonderful job. I trusted him 100 percent," said Donna.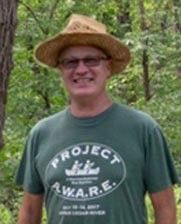 Getting The Hip Replacement Surgery Done At 60 Was The Best Decision I Made
—Roger Kuck, Orthopedics Patient
Roger was always very active, but a few years ago his hip started to bother him. When he would go to bed at night the pain was very severe. "I would have to lay on the floor and put my legs up on the couch to relieve the pain," said Roger.
His orthopedic surgeon at the Mason City Clinic Dr. Darron Jones said, "I can give you cortisone shots, but this is a quality of life question. How much more time do you want to be in pain?" So Roger opted for a hip replacement surgery.
One other motivation for the hip surgery was that his brother-in-law wanted him to walk the Grand Canyon rim-to-rim. One year after the surgery, Roger walked a total of 26 miles in 18 hours with his brother-in-law, rim-to-rim of the Grand Canyon.
Today Roger bikes, kayaks and camps, mows the yard, and can go for a 5 mile walk.
"Getting the hip replacement surgery done at 60 years old was the best decision I made versus waiting 5 or 10 years longer. At an earlier age, you can recover successfully and it gives you more quality time." Roger said.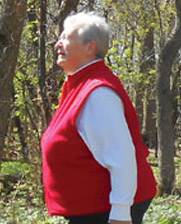 By replacing her arthritic hip and knee, Charlene can walk in the woods again without pain
—Charlene Hanson, Orthopedics Patient
Retired school teacher Charlene Hanson used to love walking in the woods – until the pain and inflammation of arthritis took it away from her. Since she had heard such great things at church and in the community about Mason City Clinic's Orthopedic Department and Dr. Darron Jones, she made them her choice to replace her arthritic hip and knee. "My recovery time was so much shorter because of the upfront education I received from the entire orthopedics staff," said Charlene.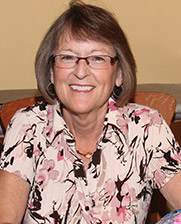 How do you handle kids if you can't use your hands?
—Sandy Wagner, Plastic Surgery Patient
"After years as a special-education teacher handling children with significant disabilities and behavioral challenges, I began having limited use of my hands due to severe arthritis pain. I found myself fighting back tears every day because the pain was so bad. I could no longer enjoy one of my favorite hobbies, quilting, either. I met with Dr. René Recinos, a plastic surgeon from Mason City Clinic and recommended a procedure called arthrodesis. He replaced one of my finger joints and immobilized seven others to restore the use of my hands and my quality of life. I'm back to work and back to quilting. One of my grandkids said I don't have 'old hands' anymore."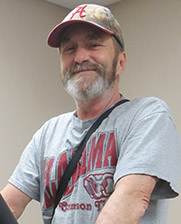 He's the best doctor I've ever had – and I've had a lot
—Jansen Wyatt, Cardiology Patient
With no warning signs, Jansen Wyatt, 54, suddenly collapsed in his home last November. His daughter-in-law rushed him to the ER at Palo Alto County Health System in Emmetsburg, where they diagnosed a severe heart attack. Jansen was helicoptered to Mason City's Mercy Medical Center. Samuel Congello, DO, a board-certified cardiologist with Mercy's Heart and Vascular Institute, a partnership between Mason City Clinic and Mercy Medical Center–North Iowa, performed an emergency procedure. Today Jansen feels better than ever. He has quit smoking and does cardiac rehab at Palo Alto County Health System. Dr. Congello drives there to see Jansen. "I think the world of Dr. Congello," said Jansen. "He's straightforward; explains things well and is understandable. He's the best doctor I've ever had – and I've had a lot.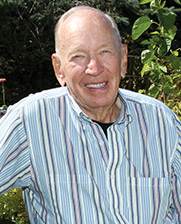 Ten years ago, my Mason City Clinic heart surgeon removed my expiration date
—Dean Haugen, Cardiology Patient
"I used to visit the ER often with undiagnosed heart problems. During my last visit in 2004, they told me I probably wouldn't make it another year. That's when my doctor at Mason City Clinic found my mitral valve malfunction and surgically repaired it. I recently had my annual EKG exam and my cardiologist found no heart problems whatsoever. Which means I can keep raising my squash, musk melon and tomatoes – and enjoying my life. Thank God I had such a great surgeon."