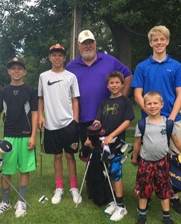 Dr. Mulholland Has A Great Team And They Know Exactly What They Are Doing
I was treated with privacy, respect, and dignity
Paul Bruns of Clear Lake, a retired restaurateur and businessman, went to his Medicare screening with his family physician at the MercyOne Family Clinic in Clear Lake. To Paul's surprise his physician called him back to let him know that his PSA count (protein in his prostate) was very high and that he needed to see a urologist as soon as possible.
"I was lucky enough to get an appointment with Dr. Tim Mulholland, MD, at MercyOne North Iowa at the Mason City Clinic. At that first appointment I visited with him for well over an hour. He took as much time as we needed. The first step was to get a biopsy which showed there was cancer in 60% of my prostrate and it was an aggressive form of cancer," Paul said.
"I decided on surgery since the cancer had taken over so much of my prostate and it was aggressive. Dr. Mulholland performed a prostectomy (removing my prostate) robotically, which is less invasive than regular surgery, and it was a success. I was out of the hospital in three days," Paul replied.
"For five years after the surgery, I visited with Dr. Mulholland every three months to check my PSA. Now I go every six months. The cancer is undetectable which is great," said Paul.
"Dr. Mulholland is very professional. From the beginning, he patiently explained my condition, options for treatment, and potential outcomes. I appreciated that the process was handled in a straightforward method, and that I was treated with privacy, respect, and dignity. He has a great team and they know exactly what they are doing."
"He is also just exceedingly easy to visit with, and comfortable to talk to. He is a great doctor," said Paul.