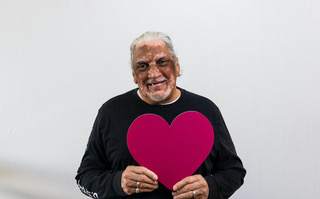 Harold Lewis – Jennifer McCambridge, PA; Samuel Congello, DO – Cardiology (Stents, Defibrillator)

Harold Lewis, 69, retired three years from the Winnebago company, a father of five and a grandfather of nine, remembers how he felt five years ago. "I was     waking up at night and couldn't breathe. I was also very tired and fatigued    during the day. I went to see my family physician at MercyOne North Iowa Dr. (Phruns)? and then Dr. Brett Mulkey. They recommended that I go see Jennifer McCambridge, PA, in the cardiology department at the Mason City Clinic." said Harold.
"She thought I may have sleep apnea and I was given a CPAP – a mask I would wear at time while sleeping to help me breathe."
It was then discovered by Dr. McCambridge that Harold had blockages in his arteries, and it was recommended that he have stents implanted. A stent is a wire mesh tube used to prop open an artery during  angioplasty (when a balloon is inserted and inflated in blocked areas of arteries where blood flow cut off to heart muscle). The stent is then implanted and stays in the artery permanently holding the artery open, improves blood flow to the heart muscle, and relieves chest pain.
"Dr. Samuel Congello put stents in me in two separate operations. And then two years ago Dr. Congello put a defibrillator in and I haven't had any more stents since then," said Harold.
According to the American Heart Association an Implantable Cardioverter    Defibrillator (ICD) are useful in preventing sudden death in people who have a high risk of a life-threatening arrhythmia. Most ICDs, called transvenous ICDs, have a dual function and also serve as a pacemaker. An ICD is implanted under the skin, just under the collarbone. It detects arrhythmias and responds with     electrical signals to restore your heart's normal rhythm.
Said Harold, "I feel 100% better. I am sleeping at night. I can get around, helping my wife with errands and housework. I can even drive to DesMoines to see some of my kids and grandkids. I would not have been able to do that before my        interventions.  I can really tell the difference."
"Dr. Congello is excellent. He is very easy to get along with. He explains things in the way I can understand it.  Dr. McCambridge has done something all along the way to alleviate my symptoms with medication."
"The doctors at MercyOne North Iowa at Mason City Clinic did a good job     keeping me alive. Dr. McCambridge and Dr. Congello saved my life a couple of times."