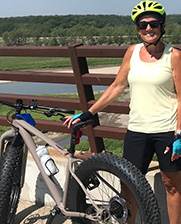 Garner woman says her 'Tummy Tuck' not only gives her self confidence, it's the motivator for staying healthy.

Renee Denny, 59, of Garner, Iowa, a retired school administrator, wants to be a healthy and active grandmother one day.
"Five years ago I had gastric bypass surgery and lost 90 lbs. I started at 240 lbs. Although I was pleased with the gastric bypass results, some of my skin was loose and sagging, and was getting caught up in my belly button and creating infections," said Renee.
Renee's surgeon referred her to Dr. Rene Recinos, a board certified plastics & reconstructive surgeon. Said Renee, "Dr. Recinos and I talked and he suggested that in addition to the removal of my loose hanging skin and fat from around my waist or "belt" line, I may want to consider an abdominoplasty or 'tummy tuck' as well. He said he could do both procedures at the same time under the same anesthesia."
In January of 2019, Dr. Recinos performed both a panniculectomy which removed her loose and sagging skin and a 'tummy tuck' on Renee.
"I love my appearance now — it has increased my self-confidence and I love how I look in my new clothes. Most importantly, it has given me the motivation to keep weight off. I lost both parents at young ages – 61 & 71 years old – to cancer. So I am very health conscious. I hope to be a grandmother one day and my goal is to be able to be active and play with them."
"Dr. Recinos has been absolutely fantastic. I just adore him. He is kind, thorough, nothing short of motivating, encouraging and complimentary. He went the extra mile and wrote a letter to my insurance company to ensure they would cover my hospital stay."
"He cares about me. I trust him completely. I am appreciative of everything he has done," said Renee.