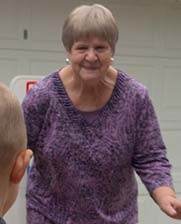 I Now Can Play Football And Basketball With My Grand Nephew.
Jane, 70, a retired nurse, is a very active person. She is a mother of one daughter and son in law, and has lots of 4 legged kids: guinea pigs, goats, Newfoundland dogs and 10 cats.
"I suffered with knee pain for a long time and would always take extra strength Ty-lenol. I found myself canceling commitments with people and events because my knee pain made me so uncomfortable," Jane said.
Jane finally went for an evaluation and scheduled a knee replacement surgery with board certified orthopedic surgeon Dr. Michael Crane in July 2016. After surgery she was very diligent with her physical therapy exercises.
"I now go to Zumba once a week; swim in the local YMCA pool twice a week; can easi-ly walk up and down stairs, and play football and basketball with my grand nephew on the weekends," Jane said.