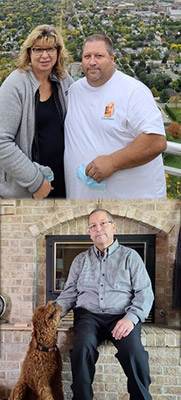 Weight Loss Surgery Helped A Fort Dodge Man Lose 100 Pounds, Bring His High Blood Pressure To Normal, and Eliminate Knee Pain
In 2020, Scott, 54, of Fort Dodge, at 5'8" weighed 342 lbs., his blood pressure was so high his doctor told him he was at high risk for a stroke, and he had extreme knee pain. Today Scott weighs 213 lbs., his blood pressure is normal, and all of his knee pain is gone.
"It was the visit to the doctor when they told me my blood pressure was 212/110 (nor-mal 120/85) that got me serious about losing the weight. I want to be around for my kids and grandkids."
Married for 33 years, Scott is a father of five, grandfather of four, and a production supervisor in a print shop. At 5'8", a normal weight is around 170 – 190 lbs.
"When I got married in 1989, I weighed 190 lbs. Then I broke two of my legs in an acci-dent which had me immobile for awhile,. I was also not the healthiest eater so the weight just kept coming on. I nearly doubled my weight over three decades."
Scott was referred by his primary care doctor into Gregory Grimberg, MD, bariatric surgeon at MercyOne North Iowa Cardiology specialty at the Mason City Clinic. "Dr. Grimberg gave me my options of surgery, but also didn't sugar coat the commitment I needed to have leading up to surgery and after surgery of changing my lifestyle."
Scott got a gastric bypass which is a weight loss surgery in which the stomach is divid-ed into two sections. One is a small upper pouch, which is connected to the small intes-tine so that during a small meal, food bypasses the stomach and causes a full, satisfied feeling. The second is the bypassed part of the stomach, which is left intact and may be used in the future if needed.
"For the first month after the surgery I was on a strict diet of liquids only and then tran-sitioned into solids. I have had to learn to eat smaller portions and slower. There has been some real discomfort in eating and swallowing, but it is getting better and better. And the good news is that I have lost 100 pounds in 8 months."
"Before the surgery, my tank was always on empty. Even to bend over and tie my shoes was a huge effort and I would get shortness of breath. My wife would ask me to help her in the garden, and the process of getting down on the ground and back up was so difficult and painful that I didn't want to do it. Even with golfing, which I love, to reach down and get the ball out of the cup left me breathless."
"I have not had a soda or pop in 1 1/2 yrs., I stay away from fried foods; I don't eat much bread and have completely eliminated pasta no bread. I eat alot of green vegeta-bles and fruit."
"I am now buying 36 waist pants, my wife and I regularly walk our dog, and I am in the process of purchasing an e-bike for exercise."
"The response from my family and community has been really good. During Covid we would go to church over Zoom so all people could see was my head. When I walked into church after 2 years, people didn't even recognize me."
"I have had follow ups with Dr. Grimberg, and the nurse and nutritionist who have been very helpful to me post surgery. "