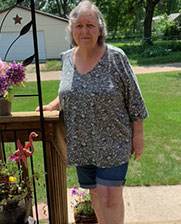 Local Woman Gets A Total Knee Replacement Enabling Her To Step Back Into The Joys Of Her Life!
Suzanne Johnson, 74, of Mason City, had been struggling over the last few years to do the things she loves to do.
"I couldn't do any type of walking. If my husband and I were going to a fair or flea market, I would always have him bring the electric scooter for me. It was limiting — not the day to day things around the house — but going out and doing the things that I love to do," said Suzanne.
Suzanne experienced aching pain in both of her knees and it significantly limited her mobility. She was familiar with Mason City Clinic's orthopedic surgeon Dr. Darron Jones because he had repaired her husband's rotator cuff tear four years prior that another surgeon was unwilling to do. Her husband had felt great ever since, and they felt comfortable with him.
"Dr. Jones is so easy to talk to. He never seems like he is in a hurry. He answers all my questions," said Suzanne.
Initially Suzanne got cortisone shots in both of her knees from Dr. Jones to alleviate the pain. It seemed to work in her right knee, but the pain in her left knee returned quickly. So it was at that point that Suzanne and Dr. Jones together agreed that getting a total knee replacement in her left knee would be the best solution to her extreme pain and continued difficulty walking.
"I had the surgery in July — they got me up and walking quickly after the surgery. I am now in the middle of my rehab and recovery,' said Suzanne. "I haven't been shopping in over a year. I am looking forward to the fun of walking around a store, a flea market or fair and not having the pain anymore that I have had for so long. I look forward to getting back to my active life."