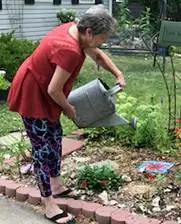 Mason City Woman Back On Her Feet Again After Hammertoe Surgery
Rebecca (Becky) Groh, 64, only goes to one podiatrist in Mason City and that is Dr. Scott Donohoe.
"I have been to Dr. Donohoe three times – for my right and left foot bunions, and hammertoes, and recently he fixed a hammertoe on my left foot that was really bothering me.
I work on my feet about five hours most days as a checker at a grocery store. The hammertoe next to my baby toe on my left foot was so bad it was pushing my baby toe sideways. It was really started to bother me, and it was very uncomfortable to stand and walk on. So I went to Dr. Donohoe to have it looked at and ultimately had the surgery to fix it.
I love his personality. He explains everything. He is thorough, direct, and has a wonderful bedside manner. When he preps you for surgery he reassures you, but then there is no messing around.
All my surgeries were done on an outpatient basis and I wore a special boot afterwards to protect my toes.
Now I am back to all of the things I love to do without the pain – I garden, walk quite a bit, run around and do all my errands, and look for baby ducks with my great niece Evelyn Rose. And I am looking forward to traveling again in the near future with my sister – to Lake Superior, and the Grand Canyon," she said.