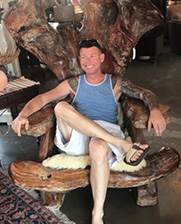 Local man who struggled with the chronic symptoms of sleep apnea gets significant relief with new implantable device
Keith Messenger, 44, a business owner in Mason City, was not getting quality sleep, and it was having an effect on his daytime productivity. "For five years or more I would crash (fall asleep) by 12 noon everyday." Keith was diagnosed with sleep apnea; he was told that his tongue would fall back while he was sleeping blocking his airway during the night. He was prescribed the CPAP machine. Said Keith, "I tried 16 or 17 CPAP face and nose masks. The CPAP was so loud and the masks wouldn't stay on my face. I was also prescribed a mouthpiece and that didn't work either."
Keith made an appointment with ENT physician & sleep specialist Dr. Philip Lee. Said Keith, "Dr. Lee listened to my frustrations using the CPAP and all about my chronic symptoms. Dr. Lee was incredible; to the point, very clear and precise — and told me (and my wife) that I may be a good candidate for a new procedure called the Inspire® Implant."
The implantable Inspire® device monitors a person's breathing and delivers mild stimulation to the hypoglossal nerve which controls movement of your tongue and other critical airway muscles. Inspire® stimulates those muscles, keeping the airway open during sleep.
Keith controls the implanted system using a small, handheld Inspire® sleep remote. The remote allows him to turn on Inspire® therapy before bed and off when he wakes up, increase and decrease stimulation strength and even pause during the night if necessary.
The procedure performed by Dr. Tim Dettmer was done outpatient. "I was in and out in the same day," said Keith. "Dr. Dettmer made the incision to place the Inspire® Implant on my chest without affecting my favorite Eagle tattoo. I was very pleased about that."
Once Keith got home he allowed six weeks for everything to heal and then activated the implant, and started feeling better almost immediately.
"I haven't felt better in years. I have more energy than I have had in five years. I am starting a new company. Everything for me has changed — mentally and physically."