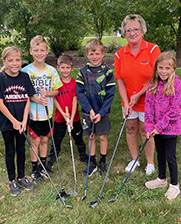 Garner woman gets back to active life quicker after having a new & innovative bunion surgery, performed only at the Mason City Clinic.
Jane Peterson 68, of Garner Iowa loves to golf, but it was getting harder and harder to do it with the bunions she had on each foot. "My feet would just get tired much sooner when I was golfing. And I was working full time at a factory, standing all day on a cement floor which became very painful. I just wanted to get my feet into shape by retirement so I could continue to play golf comfortably and be active with my 10 grandkids," said Jane.
Jane was referred to Mason City Clinic podiatrist Dr. Edward Henrich through a friend. Dr. Henrich is the only podiatrist in Northern Iowa to perform a new type of bunion surgery called the Lapiplasty® Procedure which corrects the root of the bunion problem and helps get people onto their feet much sooner than with the traditional bunion surgeries.
Said Dr. Henrich, "In traditional bunion surgery, known as the 'Lapidus' approach, the bone is cut in half and the top part is pushed over, treating the bunion symptoms or bump. This surgery can dramatically relieve the patient's pain, but it does not address the cause of the problem (the unstable joint) so there is a good chance that the bunion will come back. With the Lapiplasty® Procedure, we correct the entire metatarsal bone – in all three dimensions, restoring it to its proper alignment, while naturally removing the bump and straightening the toe."
Once the metatarsal bone is corrected, a titanium plating technology is used to permanently secure the unstable joint in place. Since the procedure uses advanced fixation methods, most patients are able to walk just days after surgery without casts; up to 6-8 weeks earlier than with the more traditional Lapidus approach (which was previously the only option for addressing the unstable joint). In most cases, patients can quickly get back to work and normal life.
"Both of my surgeries were on a Tuesday and by Friday of the same week I was in one of those walking boots. It allowed me to mobile – walk, go shopping, and get around the house instead of being on crutches or on a knee scooter," said Jane.
"The pain is gone. Now I can wear nice summer sandals showing my feet where in the past I would find sandals that covered my bunions. I am golfing and will continue to with all my grandkids." Jane said.