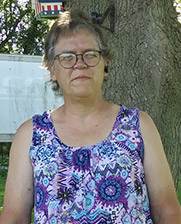 Iowa Falls Woman In Full Kidney Failure, Now Planning A Hiking & Fishing Trip Out West
Cindy Wingler, 55, was returning from a trip out west with her boyfriend when she didn't feel well and went to the ER at Hansen Family Hospital in Iowa Falls. She was nauseous and fatigued, and thought perhaps she was having another urinary tract infection which she had many of in her lifetime.
What Cindy found out was much more dire. She was in acute kidney failure and had sepsis because a massive staghorn kidney stone had filled her entire left kidney blocking any function or filtering of the kidney at all. Cindy was transferred to MercyOne-North Iowa in Mason City, and urologist Kevin Rier, MD became her doctor and surgeon.
Said Cindy, "Dr. Rier is the absolute best. He tells you exactly what is going on in ways you can understand. He is honest, you know. He does not keep anything from you." Cindy's staghorn kidney stone was bigger than anything Dr. Rier or his urology partners had ever seen. It took five surgeries and seven months for Dr. Rier and his team to fully remove all of the calculi built up in her kidney.
"They worked together as a team. I saw and talked with his partners Dr. Mulholland, Dr. Adams, and the resident Dr. Meyers too. I had excellent care," said Cindy. "Also my boyfriend doesn't like hospitals, but the staff at MercyOne North Iowa and the surgical center made him feel welcome and comfortable sitting through my surgeries."
"Now I feel great. My kidney function is improving. I still have my kidney. I drink a lot of water and am on low sodium diet. I am taking the full month of July off to visit my son and brother in Washington state. I am going hiking, fishing – taking a much needed mental break. I am on the road to recovery thanks to Dr. Rier."