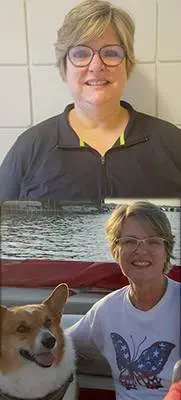 Mother Of Four And Special Education Teacher Loses 100 Pounds Through Gastric Bypass Surgery, And Feels Happier Than Ever
Clear Lake resident and special education school teacher Lisa Buss, 56, reached a high of 280 pounds. Said Lisa, "When I was younger I was able to eat anything and not gain weight. Then as I got older and had my kids I started getting heavier and heavier, and it was very hard for me to lose the weight on my own." On a 5'7" height Lisa was 150 pounds over a healthy weight.
After gastric bypass surgery and changing her eating habits, Lisa is now 180 lbs., well onto her goal of 150 lbs. "More than the weight loss, I am just a happier person now," said Lisa.
"Before the surgery I had high blood pressure and acid reflux disease. The day after the surgery I stopped taking the Prilosec for acid reflex and the high blood pressure medication," said Lisa.
"I was wearing a 2x women's shirt; a size 22. I now have a size 14 (blouse) that is too big. I haven't worn a size 12 or 14 for 28 years. I am relieved to not shop in the Plus Women stores. I actually never went out to the store and shopped. I ordered everything online. Now I am going into stores and trying different clothes on."
Said Lisa, "The other day, my mentor who works with me at Clear Lake Elementary school said to me 'You used to come into my office with your hand on your stomach and completely out of breath. I was worried you were going to have a heart attack. Now you look like you feel so much better, and happier.'"
"It is work losing this weight even with the surgery. You have to change your eating habits. I haven't eaten bread, potatoes, rice or pasta in six months, and have no desire for it. Six weeks after surgery I was going to the gym and lifting. I can now do squats with a 30 pound weight in my hand," said Lisa.
"My primary care physician was the first person to suggest weight loss surgery to me and recommended I talk to Dr. Matthew Fabian, a bariatric surgeon at the Mason City Clinic. During my first consultation he asked lots of questions about my health history, and I talked with the dietician and nutritionist as well who continue to be part of my post-surgery care team. I have had no complications from the surgery," said Lisa.
"Every time I see my daughter she says, 'you are so little; you are smaller than last time I saw you.' My husband says he is proud of me."