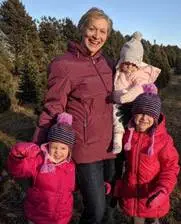 After Breaking Her Wrist In A Fall, Hampton Woman Gets Full Mobility of Her Hand And Wrist Back!
In February 2019, 65-year-old LeAnn Strother, who is left-handed, fell and broke her left wrist. Because it was a complicated break, she was referred for surgery to Dr. René Recinos, a plastic and reconstructive surgeon and hand specialist at Mason City Clinic. Most concerning for LeAnn was whether this injury would impact all the things she loves to do with her hands.
The forearm consists of two bones, the radius and the ulna. The radius is on the thumb side and the ulna on the pinky side. According to LeAnn, "In my fall, my radius had compressed and it was too short, and I was not going to have good movement of my wrist. So Dr. Recinos had to shorten my ulna to match my radius length. In the surgery, he used some of the bone from my ulna to graft onto my radius.
"After surgery, my wrist was in a cast for six weeks, and I had to keep my arm raised and immobile much of that time because of swelling issues. Later, I wasn't able to move my wrist and fingers and had to work hard to get mobility and strength back, but I faithfully did the exercises Dr. Recinos said were important.
"I went to the hand therapist, Deb, at Mason City Clinic – who is awesome. Then I did occupational therapy at Franklin General Hospital in Hampton, and my occupational therapist there, Diana, was great too.
"When I went back for my six-month checkup, Dr. Recinos was very pleased. He said that I had better mobility than he had hoped for.
"Dr. Recinos was so kind and caring, and he explained things very well. I now have all my mobility back, no pain and barely any scars – he did such a beautiful job.
"I have been able to get back to doing all the things I love to do, including working part-time at the library, writing a publication for my church, cooking in my kitchen and keeping up with my eight grand-kids."