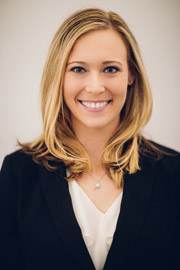 Trisha L. Thoma, MD
Otolaryngology
Board-Certified: Otolaryngology, American Board of Otolaryngology
Residency: Otolaryngology–Head and Neck Surgery, Louisiana State University–HSC, Shreveport, LA
MD: University of Iowa Carver College of Medicine, Iowa City, IA
Member: American Medical Association
"ENT has a unique blend of both medicine and surgery, which gives us the potential to help a lot of people with a lot of different problems.
"I love the variety of ENT – I get to help people of all ages with a wide assortment of ailments. The vast surgical variety within ENT gives us many different methods of treatment that can be individualized to a patient's distinct needs.
"I really enjoy getting to know my patients. Building the patient-doctor relationship is an integral and necessary part of caring for the 'whole patient.' I want my patients to know that I am on their team to help them get better, and I want to help guide them toward making healthy decisions and lifestyles to maximize their quality of life.
"I am trained in all areas of otolaryngology, and I enjoy performing a variety of different types of surgery, including microscopic, endoscopic, minimally invasive and open surgery. I also provide allergy services, including allergy testing, treatment and immunotherapy.
"I grew up in Ames, IA and obtained my medical degree at the University of Iowa Carver College of Medicine. My ENT training was completed in Louisiana, where I had the unique opportunity to experience and treat patients from a different part of the country and enjoy a little of the Southern culture.  I am excited to be back in the great state of Iowa and serving the people of my home state."