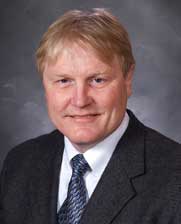 Timothy A. Gibbons, MD
Orthopedic Surgery
Board-Certified: American Board of Orthopedic Surgery
Fellowship-Trained: Orthopedic Sports Medicine, University of Iowa, Iowa City, IA
Residency: Orthopedic Surgery, University of Texas Medical Branch, Galveston, TX
MD: University of Iowa College of Medicine, Iowa City, IA
Member: American Board of Orthopedic Surgeons, Iowa Medical Society, Iowa Orthopedic Society, Cerro Gordo County Medical Society, Veterans of Foreign Wars
"I found orthopedics to be the most fascinating area of medicine. I like the mechanical and human performance aspects of orthopedics. I like that there are constant innovations to improve patient outcomes.
"I am relatively direct and to the point. I believe my role is to work for the patient and be the informed expert and advocate for the patient to help them and their family members make their most informed decisions. I hope to give my patients the best outcomes that are realistically possible for each individual."
Dr. Gibbons is a retired military surgeon with 15 years of service in the U.S. Army. He served our country in the Iraq War and was awarded a Bronze Star for his service in the field. Tim is married with seven children. He spends his free time raising livestock and crops on a small farm south of Mason City. He is an active member of the Epiphany Parish. He is the founder of the Amateur Wrestling League and serves as an advisor to the Iowa High School Athletic Association through the Iowa Medical Society committee on sports medicine. He was appointed by the governor to the Iowa Athletic Trainers Board, where he served two years. He has done missionary work in Asia and Africa. He enjoys hunting, fishing and mountaineering, including climbing the highest mountains on three continents. Dr. Gibbons has been a long-time leader of Mason City Clinic, serving on the board of directors for ten years, including being elected as vice president to the clinic. Dr. Gibbons was honored by the National Wrestling Hall of Fame as a "Great American" from Iowa in 2011.