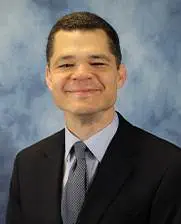 Rogerio M. Ramos, MD
Psychiatry
Dr. Rogerio Ramos is a board-certified psychiatrist who has practiced in the mental health clinic at Mason City Clinic since 2009, as well as serving as medical director of Prairie Ridge Addiction Treatment Center and running a buprenorphine clinic for patients with addictions.
Dr. Ramos graduated with his medical degree from the Faculdade de Medicina da UFMG in Brazil and then completed his initial residency training in psychiatry at the Fundação Hospitalar do Estado de Minas Gerais. He came to the US in 2004, after a few years practicing as medical director of an outpatient psychiatric clinic in Brazil, and completed additional residency training in psychiatry at the Institute of Living/Hartford Hospital, where he served as chief resident. He then further advanced his training through a fellowship in addiction psychiatry at Yale University.
Throughout his training and practice experience, Dr. Ramos has participated in numerous research studies regarding emerging psychiatry treatments. His work has been published in leading medical journals and presented at society meetings across the country. He is a member of the American Psychiatric Association and the American Medical Association.