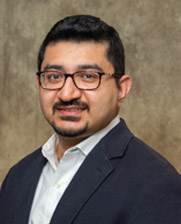 Fayez Siddiqui, MD
Interventional Cardiology
Board-Certified: Internal Medicine and Nuclear Cardiology
Fellowship-Trained: Interventional Cardiology, University of Cincinnati Medical Center, Cardiovascular Diseases, Wayne State University, Detroit Medical Center
Residency: Internal Medicine, Wayne State University, Detroit Medical Center
MD: Ziauddin University, Pakistan
Memberships: American College of Cardiology, American College of Physicians, Society of Cardiovascular Angiography and Interventions, Transcatheter Therapeutics
"As a young age, I was fortunate to be able to observe the positive impact that doctors could have not only through treatment, but interaction and compassion. For me the decision to pursue a career in Interventional Cardiology had become quite clear at an early stage. I saw them visibly, and often drastically; affect the lives of their patients. What I love most about my job is applying what we know from scientific evidence to treat each patient based on his or her background, values and needs.
Dr. Siddiqui completed his residency in Internal Medicine at the Wayne State University/Detroit Medical Center where he continued on serving as the chief resident and then completed his fellowship in Cardiovascular Disease. He was also appointed as the Chief Fellow. He then moved to Cincinnati for advanced training in Coronary and Peripheral Vascular Intervention at the University of Cincinnati Medical Center. He specializes in minimally invasive procedure that opens up the blocked arteries of the heart and legs.
Dr. Siddiqui has published numerous articles and abstracts in professional, scientific journals. His publications focus on topics related to coronary artery disease outcome, coronary interventions, high-risk coronary interventions, cardiogenic shock, and structural heart interventions.
I love teaching and passing on what I have learned, which brought me to Mason City. Here, I not only train future cardiologist, but also serve a large community and be a difference in their lives. I strive to treat each patient as I would treat a member of my own family. I provide my patients with accurate information about their condition, and define the best options of treatment that are avaiable."