Clear Lake Woman Finds Joy In Outdoor Activities Again
Pain Specialist At The Mason City Clinic Helped Relieve Her Hip Arthritis Pain, Without Surgery
Clear Lake resident Deborah Wessels, 69, is a proud Iowa State Cyclone alum, mother of two and grandmother of three, and enjoys being active. Deborah loves to hike, bike, golf and travel.
"For the last two years I have had a sharp pain in my left buttock. It was localized, but it started to really interfere with my activities. I used to walk three miles a day and I couldn't do that anymore without extreme pain. I went to New York City with a college friend, and we had to stop so much while walking around the city it just didn't feel normal," said Deborah.
"I could manage the pain somewhat when I golfed using Salon Pas on my hip, and taking ibuprofen and Tylenol, but that was not going to be sustainable," she remarked. "I had done a few years of physical therapy, but nothing was changing."
"I have a neighbor who said he had used a pain medicine doctor at the Mason City Clinic and that he was 'very conservative in his treatments and trusted him'. I had never heard of a pain doctor before, but I went to see him and now we are best friends," said Deborah.
Ronald Kloc, D.O., is a board certified anesthesiologist and pain medicine specialist with an interventional pain medicine practice at the Mason City Clinic.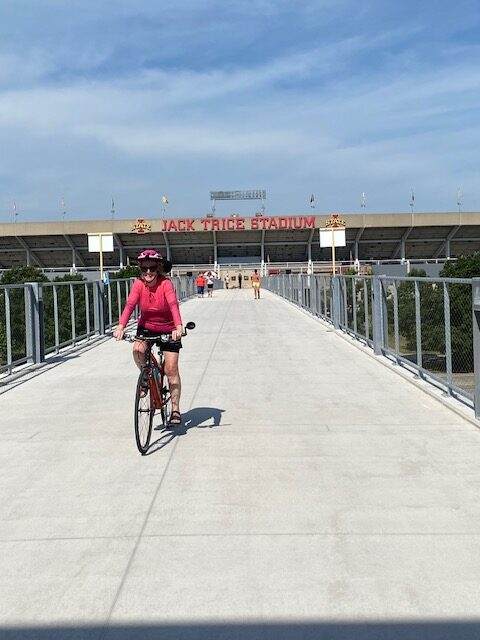 "When I went to my first appointment with Dr. Kloc, he took X-rays of my spine and hip, and found arthritis in both my hips. After giving me two nerve blocks, which is required by Medicare, he performed a radio-frequency ablation targeting and then destroying the nerves that were being irritated and creating the pain," said Deborah.
Radio-frequency ablation is a minimally invasive procedure which uses heat to destroy tissue. For the management of pain, radio waves are sent through a precisely placed needle to heat an area of the nerve. This prevents pain signals from being sent back to the brain. Radio-frequency ablation is considered for long-term pain conditions, especially of the neck, lower back or arthritic joints that haven't been successfully treated with other methods.
"Dr. Kloc is so positive and encouraging. I am back to walking again without pain. I am now planning for the future. I am hoping to travel to Greece next year and see all of the great ancient art and artifacts. And I want to go hiking in the many magnificent parks of Utah," Deborah said.