After 40 Years Of Living With Chronic Heartburn & Regurgitation, Forest City Woman Finds Lasting Relief With The LINX Surgery
Kathleen Hanna is a mother of four, grandmother of nine and a para-assistant at Forest City Elementary School. "I had heartburn with regurgitation for 40 years, have had an ulcer, and have been on heartburn medication for about that long too." Having been on heartburn medication for many years her physician was becoming worried that it was affecting the function of her kidneys.
"I went through a series of tests for reflux disease with Dr. Matthew Fabian at the Mason City Clinic and he told me my sphincter muscle didn't work at all." She was a candidate for a minimally invasive surgical procedure which implants a 'LINX' device of magnetized titanium bead around the esophagus just above the stomach. The quarter-sized flexible band of magnetic titanium beads open to allow food and liquid down, then close to prevent stomach contents from moving up, stopping acid reflux at the source.
"This is a game-changer when it comes to treatment of reflux disease," said Dr. Fabian, a general surgeon who has performed many of these procedures. "While medications can control or suppress acid production in the stomach, they do not address the cause of GERD (a weak sphincter muscle) like the LINX procedure does."
"I feel great and have none of the heartburn I had for so many years and have lost 12 pounds," Kathleen added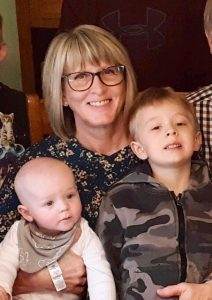 Kathleen with two of her grandchildren