What Can We Learn From NFL Player Damar Hamlin's Cardiac Arrest?
Mason City Clinic cardiologist Michael Spooner, MD, weighs in on possible cause and on future preparedness for public
When Damar Hamlin's heart stopped beating during a National Football League game between the Cincinnati Bengals and the Buffalo Bills on Monday Night Football, January 2, the crowd fell silent. Hamlin, a Bills safety, took a hit in the chest from the shoulder of a Bengals receiver in what appeared to be a routine play. Afterward, Hamlin stood up, took a few steps, then fell onto his back, where he lay unmoving.
According to reporting from the scene, medical personnel immediately responded and administered CPR on the field, and used an automatic external defibrillator to re-start his heart. Bills representatives have confirmed his heart stopped — but was then re-started — on the field. After several minutes, an ambulance transported Damar to the University of Cincinnati Medical Center. where he remains today.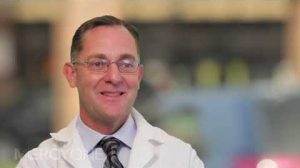 "What's important after a cardiac arrest is that the blood gets circulating again to the person's brain to mitigate neurological damage, said Michael Spooner, MD, cardiologist at the Mason City Clinic and Mercy One North Iowa Heart Center.
Injuries on the football field are more common than in any other popular professional sport: More than three times as many injuries happen during NFL games as during professional basketball, baseball, hockey, and soccer games combined. But when we think of football-related injuries, the ones that usually come to mind are concussions and musculoskeletal problems. Heart injuries not as much. It's still unclear what happened to Hamlin during Monday night's game. However, it is possible for the heart to stop beating after a hard, focused hit to the chest — an event called commotio cordis in medical terms, from the Latin for "agitation of the heart." And while it's a well-described sports injury, it's not something the general public is familiar with. Its incidence in the United States is fewer than 20 cases per year, often occurring in boys participating in sports, most commonly in other sports than football namely baseball when a ball strikes an unprotected chest.
Said Spooner, "Commotio cordis is rare, but not unknown to young athletes. It is a disruption of the heart rhythm that occurs as a result of a hard hit directly over the heart at a very specific moment of the heartbeat. It leads to a disruption of normal heart electrical activity, followed by ventricular fibrillation, and cardiac arrest. It is not caused by structural damage to the heart muscle and is not the result of heart disease."
If CPR is combined with use of an on-site automated external defibrillator within three minutes of the impact, survival from commotio cordis can be as high as almost 60 percent.
According to numerous media reports, Hamlin's recovery is continuing to trend in a positive direction. He spent two days in the hospital under sedation allowing his body to recover and on a ventilator to assist his breathing. As of Friday January 6, the ventilator had been removed and Damar was breathing on his own. According to his family spokeperson, he is able to communicate in writing and talk on his own. He appeared on a FaceTime with his team members on Friday and said "love you boys". Doctors say his neurological system is excellent, stating "The lights are on and he is home."
Said Spooner, "The healthcare staff will also be looking to see if there is something structurally wrong with the heart as a possible cause for the cardiac arrest. Or a thickened heart, or heart arteries congenitally not in the right location."
"If there is one thing that can come from this incident is the importance of defibrillators in restarting hearts for people suffering a cardiac arrest such as Damar's. CPR manually gets the blood flowing; the defibrillator literally restarts the heart back into rhythm. There are certifications classes are available through the American Red Cross and the American Heart Association for the public and the increase in people being able to administer this lifesaving is a good thing overall," said Spooner.
Academics and scientists who study CPR say cardiac arrest survival rates increase greatly when bystanders use an AED. However, these rates are still low and warrant further public awareness and education efforts as well as increased, widespread access to AEDs. Data shows that when a bystander uses an AED, the chance of survival triples.
On Sunday January 8, all NFL players wore a #3 jersey in support of Damar. Media reports showed him watching his Buffalo Bills from his hospital room.