The Debilitating Foot Condition That Plagues Tennis Star Rafael Nadal, Mostly Affects Females Aged 40-60
There's currently no cure, but there are many conservative and surgical treatments available.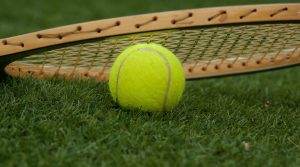 What is the foot condition tennis player Rafael Nadal has?
Rafael Nadal is the greatest tennis player of all time, just recently winning his 14th French Open championship – bringing his total of Grand Slam wins to 22. This is the first time in his career he's won the first two Grand Slams of the calendar year, winning the Australian Open in January, 2022.
Nadal is known for his loud grunts, plus aggressive and passionate tennis playing. Seemingly at the top of his game, he also has been dealing with a chronic foot injury since 2005 called Muller-Weiss Syndrome, a rare condition that affects the adult navicular bone, one of the most crucial bones in the human foot. It connects the ankle to the bones of the foot and has significant function in maintaining the foot's arch and the dynamic biomechanics of walking. The first time fans were able to see how Muller- Weiss Syndrome affected Nadal was during the 2005 Madrid Masters. Nadal lost his match to Canadian Denis Shapovalov barely being able to move in the third set. He has been managing through this pain ever since.
With Wimbledon just weeks away (June 27-July 10), Nadal admitted, "I have a chronic injury which has no treatment. That's part of my life, and that's the downside of not being able to finish matches earlier. In the short term, I think I am fine, physically speaking, but also, speaking about my feet, it has to adapt to competition."
What is Muller-Weiss Syndrome?
Muller-Weiss Syndrome is characterized by the navicular bone's progressive collapse and fragmentation leading to mid and hind foot pain and deformity. Essentially, the disease wears the outside of the bone away.
The middle third of the navicular bone lacks blood vessel penetration and it bears the majority of the load applied to the tarsal bones during weight bearing. Its vascular and biomechanic properties make it susceptible to injury. This may partly explain a higher risk of stress fractures and osteonecrosis in this location.
For tennis players such as Nadal, the navicular bone is essential in helping them move about the court. Athletes who run, cut and pivot are particularly susceptible to injuries in this area. For Nadal, repeated stress and nearly 20 years playing at the top level of tennis has led to the injury getting worse.
Who is the most at risk of getting Muller Weiss Syndrome, and what are the treatment options? Is it curable?
Even though Nadal has this foot injury, it is most common with females, aged 40-60. People may experience Muller-Weiss Syndrome initially as foot discomfort which then develops into disabling pain, even while just standing for a prolonged period. The pain is typically in the mid and hind foot with tenderness on the top of the mid-foot. An early diagnosis is critical by a podiatrist or an orthopedic surgeon who specializes in foot and ankle injuries and disease. It is frequently misdiagnosed, increasing the level and length of pain and disability for affected patients.
Said podiatrist Tyler Mulkey, DPM, MercyOne North Iowa Orthopedics at Mason City Clinic, "Treatment should start as early as possible, and initial treatment should be conservative including immobilization with orthoses (such as a walking boot), or short leg casts, activity modification, injections, physical therapy, radio frequency ablation, and anti inflammatories. Surgery can be an option only if the pain is severe for greater than 6 months."
Dr. Mulkey received his Doctor of Podiatric Medicine in June 2018 from Rosalind Franklin University in Chicago. He completed his residency at Christus St. Patrick Podiatric Medicine and Surgical Residency in Louisiana. Dr. Mulkey specializes in foot and ankle injuries, and provides a wide range of treatments for patients, from conservative to surgical interventions. Dr. Mulkey can be reached at 641-494-5210 at MercyOneNorth Iowa Orthopedic Specialty at Mason City Clinic.
Will Nadal play Wimbledon?
According to ESPN Nadal has been undergoing frequent injections into a nerve to numb his foot pain but was set to visit a specialist to undergo a fresh procedure — a radiofrequency nerve ablation — and would not play at Wimbledon if it was not successful. But Nadal confirmed his intentions to compete at the Grand Slam. Said Nadal, "The medical treatment] done in Barcelona is not a 100% immediate thing, but changes are noticeable," Nadal said. "I have noticed them, strange sensations, my joint pain has decreased. My intention is to play Wimbledon."