Mason City couple walk 45 miles and raise $1,000 to help raise awareness around mental health
Raul Carolus, a software engineer at the Mason City Clinic, with his wife Julie, walked 45 miles from Mason City to Garner and back on Saturday July 31 for one reason. To raise awareness about mental health, and educate people to a more open and empathetic way of talking to one other about mental illness and its symptoms.
Said Julie, "I have struggled with anxiety and depression due to PTSD for many years. The walk we did was symbolic of the journey people like me have through mental illness. There are ups and downs, smooth and rough patches, all along the way."
Raul and Julie raised $1,000 for the Make It OK organization which is part of the Iowa Healthiest State Initiative helping to change the dialogue about mental illness.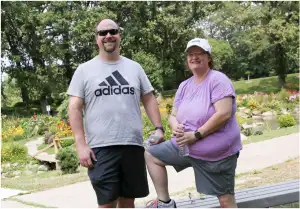 According Make It OK, stigma is a leading barrier to the treatment for those suffering from mental illness. Through the development of a Make It OK Ambassador Bureau, along with a statewide coordination effort, local Iowa communities will have the opportunity to bring community education and discussions together to eliminate the stigma surrounding mental illnesses. Raul and Julie are two of 800 Make It OK ambassadors in Iowa.
Said Julie, "1 in 5 people in the US in any given year will struggle with anxiety or depression, or even suicidal thoughts. In Iowa, that's 600,000 people. We treat it as an unusual circumstance. And it's not. It's very common and the Make It OK organization teach people how to have conversations with people struggling with their mental health."
Said Raul, "We have to take the stigma away and treat this disease like any other one physical condition."
The Make It OK organization recommends some conversation starters such as "How can I help?", "Do you want to talk about it?", "Wow that must stink?" Said Julie, "The conversation is focused on empathy versus sympathy."
Julie said, "I would like to impress on anyone if they are struggling that they just need to talk to someone. It doesn't have to be a licensed professional. It could be your minister, or your neighbor or a friend. Talking early and often is the best way to get the help and support you need."
To read the Globe Gazette article about Raul & Julie and their work with Make It OK go to:
https://globegazette.com/news/local/their-shoes-were-made-for-walking-couple-walks-to-spread-awareness-about-mental-health/article_8114aa07-f73c-5f71-beda-4756742f0a34.html