Mason City Clinic's CFO Finds Meaning in Missionary Work
Jodi Draper, Chief Financial Officer for the Mason City Clinic, recently returned from a 12-day mission trip to Belize. "We were in several under-developed villages in Belize where people and families have no electricity, no running or hot water and limited food for their families and children." Jodi and her husband Ken, co-ministers of the Harbor of New Hope Church in Mason City, were offered the opportunity to travel to Belize to help the people and families there through their affiliation with the International Association of Ministries.
According to the Borgen Project, poverty in Belize is high. Of the nearly 360,000 individuals in Belize, 43 percent live below the national poverty line. The main at-risk group in Belize are the children, 49% of whom live in poverty and who lack access to basic necessities such as food and healthcare, and are vulnerable to exploitation. In 2015, a study showed that more than 16 percent of children under the age of five suffered from stunting caused by malnutrition.
Harbor of New Hope Church planned for the trip for two years. They held several fundraisers and congregants made donations to enable Jodi and Ken to go, as well as to directly support programs on the ground.
Said Jodi, "The church in the villages we visited operate as the central gathering place for people. Beyond spiritual teachings, people are provided meals and they are taught practical skills about how to care for their home and land, and families."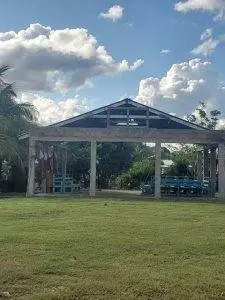 "In San Ignaco, we provided $1,500 to Pastor Ocaleno's church to install a floor in their building to enable them to start a meal program for the children. In Santa Elena at Pastor Ed and Arita's church and in Bullet Tree Villages at Pastor Rebecca's church, we purchased food for their meal programs. Without a village's church food program, many of the children would not be fed."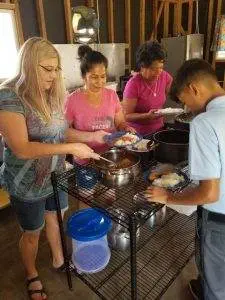 "The trip was eye opening for me. I think that in the United States we don't know how good we have it. Our children get lunch at school, we have electricity and services to repair it quickly if it breaks down."
"We have refrigeration, and hot water. Many of the people of Belize don't have many of these basic living necessities, but they don't complain. They live with a purpose of the family being together, the family working together. They don't complain about what they don't have. They live in a way that is so simple, but so beautiful."
About her job as Chief Financial Officer at the Mason City Clinic, Jodi said, "It's a challenging job and every day is different, but I love it. Although I don't have direct patient contact, I feel very good about supporting the medical providers and their teams who treat the people of Mason City and surrounding counties so expertly and with care.