Many Iowa Families And Children Are Living With Food Insecurity
Mason City Clinic physicians and staff donate food and funds to local food banks
Many Iowans are struggling to put food on the table this holiday season. Data compiled by Feeding America reveals that nearly 376,000 people are struggling with hunger in Iowa, 122,000 of whom are children. That translates to one in eight adults and one in six children struggling with hunger.
According to the USDA, 'food insecurity' is the limited or uncertain availability of nutritionally adequate and safe foods or limited or uncertain ability to acquire acceptable foods in socially acceptable ways. For a household that struggles with 'food insecurity,' the reasons are simple – there is simply not enough money in the household to ensure everyone in the household has access to a healthy diet.
The impact can be significant, particularly for children. According to the American Psychological Association household food insecurity "has insidious effects on the health and development of young children, including increased hospitalizations, poor health, iron deficiency, developmental risk and behavior problems, primarily aggression, anxiety, depression, and attention deficit disorder.  These concerns early in life increase children's risk of poor school readiness, poor school performance and subsequent health disparities."
This holiday season, Mason City Clinic physicians and staff have participated in feeding families and individuals in need through an annual food drive which collected nonperishable food and household goods which were donated to the Hawkeye Harvest Food Bank and New Beginnings House of Hope in Mason City. Additionally $800 raised by staff through various fundraisers was donated to the Hawkeye Harvest Food Bank.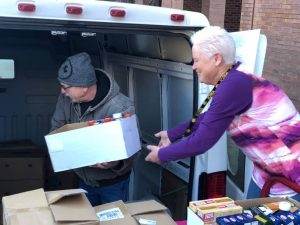 Also this year, the Clinic donated funds to 11 rural county food banks in northern Iowa on behalf of the physicians and hospitals in those outreach areas that the Clinic serves including:
* New Hampton: Chickasaw County Food Pantry
* Charles City: Messiah's Food Pantry
* Hampton: Franklin County Food Pantry
* Eldora: Pine Lake Food Shelf
* Britt: Britt Area Food Bank
* Cresco: Northeast Iowa Community Action Corporation Food Bank
* Algona: Kossuth Co. Food Pantry
* Osage: Mitchell County Food Bank
* Emmettsburg: Upper Des Moines University Food Bank
* Northwood: Manna of Worth County
* Eagle Grove: Wright County Food Pantry
Hunger and health are deeply connected.                                                        
Healthy bodies and minds require nutritious meals at every age. But when people don't have enough food or have to choose inexpensive foods with low nutritional value, it can seriously impact their health. And once the cycle of poor diet and poor health begins, it can be hard to break. Watch the video below to learn how hunger can affect the daily lives of millions of Americans:
Put simply, hunger's toll can be life-altering. When someone is sick, having to choose between food and treatment can lead to serious complications. For example, for food insecure adults living with diabetes, the choice between food and controlling the disease can even lead to complications like kidney disease, eye disease, and nerve damage.
* Food insecurity can lead to Type 2 diabetes, high blood pressure, heart disease, and obesity.
* More than half the households the Feeding America national food bank network serves have at least one member living with high blood pressure and more than one-third have a member with diabetes.
* Children at risk of hunger are more likely to be in poor health and struggle in school.
Family members in food-insecure households are also more likely to struggle with psychological and behavioral health issues. And kids struggling to get enough to eat are more likely to have problems in school and other social situations.
There are many ways you can contribute and make a difference in 2023.  To find a food bank close to you in Iowa visit https://foodbankiowa.org/give/, or in Southern Minnesota https://www.foodpantries.org/ci/mn-albert%20lea.  If you would like to make a donation or learn more about the Hawkeye Harvest Food Bank in Mason City, call 641-424-3073.