How To Keep Your Heart Healthy In Cold Weather
People With Heart Disease Are At A Much Higher Risk for Heart Attacks & Heart Failure During Cold Weather.
Here Are Some Lifesaving Tips!
Being in a cold environment causes our bodies to make certain physiological adjustments in order to preserve our core body temperatures. However, the cold temperatures affect the heart of people with heart disease differently. "Clamped vessels in addition to increased heart rate and blood pressure in people with heart disease can be very risky; triggering a life-threatening cardiac event", said a board-certified cardiologist at the Mason City Clinic. "We encourage people with heart disease to limit all over-exertions in cold weather."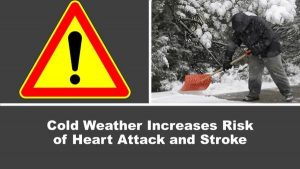 Shoveling snow can trigger a cardiac emergency in a person with heart disease.
5 Life-Saving Tips!
1. Limit your cold exposure. Limit the time you spend out in the cold weather, and if you go out, dress warmly, in several layers, cover your head and hands, and wear warm socks and shoes.
2. Don't exert yourself too much. Shoveling snow for a person with heart disease can trigger a cardiac emergency including angina, heart attacks, heart failure, and sudden death. If you are going to shovel snow, do it when there's an inch or less on the ground, use a smaller shovel, and push (rather than lift) the snow. Never shovel wet, heavy, or deep snow.
3. Don't let yourself become overheated. Dressing warmly and then engaging in physical activity can lead to overheating. Overheating, in turn, causes blood vessels to suddenly dilate—which can lead to hypotension (low blood pressure) in a person with heart disease. If you have heart disease, consider this sweating to be a danger sign. Stop what you are doing and get indoors.
4. Get a flu shot. Winter also raises your chances of getting the flu due to low humidity brought on by cold weather and indoor heating. The flu is potentially dangerous in anyone with heart disease.
5. Avoid alcohol before going outdoors. It expands blood vessels in the skin, making you feel warmer while actually drawing heat away from your vital organs.