Dr. Denisa Hagau on KIMT: "If you are experiencing these symptoms see Your Doctor"
Mason City, Iowa; February 14 — Board-certified cardiologist at MercyOne North Iowa Cardiology Care at the Mason City Clinic, Denisa Hagau, MD, is sounding the alarm about seeking medical care. Said Hagau, "If you are experiencing any sort of acute symptoms such as chest pain, shortness of breath, limb weakness, or an irregular heartbeat you must seek medical care in order to prevent more serious conditions like heart attack or stroke," she said.  "And if a patient delays care after surviving a heart attack their prognosis can be much more severe and the consequences are long term."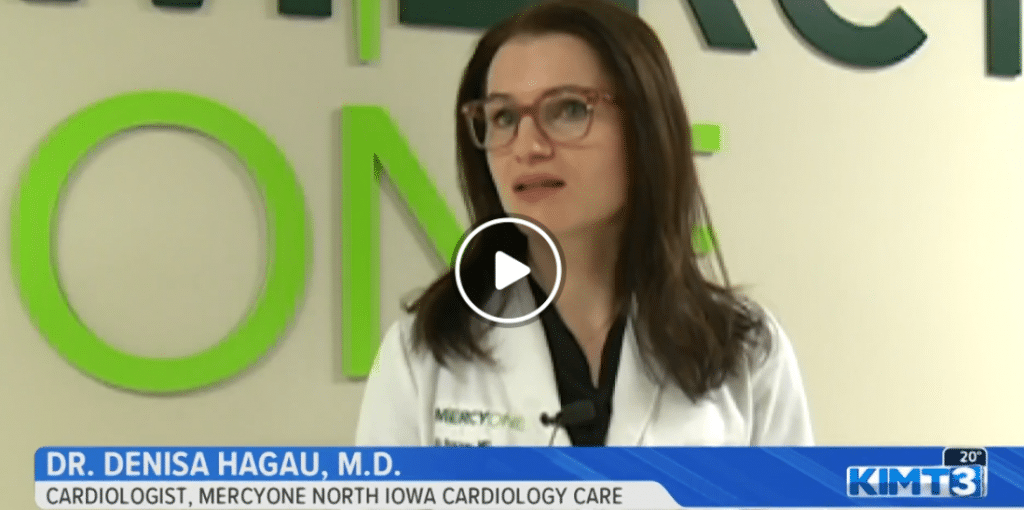 There is a disturbing new trend that Dr. Hagau and her colleagues at MercyOne have experienced of people who have heart disease, either knowingly or not knowing, delaying seeing their primary care physician or cardiologist out of fear of getting COVID.
The result is that they wait too long to see their doctor or they're afraid to come into the emergency room, and sometimes it's too late to get the proper care they need to manage their heart condition.
Delaying health care can be a risky, and often unnecessary, choice that could lead to long-term negative health consequences.
According to a CDC study, "…because of concerns about COVID-19, an estimated 41% of U.S. adults had delayed or avoided medical care including urgent or emergency care (12%) and routine care (32%). Avoidance of urgent or emergency care was more prevalent among unpaid caregivers for adults, persons with underlying medical conditions, Black adults, Hispanic adults, young adults, and persons with disabilities."
At Mason City Clinic, MercyOne North Iowa, we clearly screen patients – the temperature checks at the front desk, the checking process is different, our cleaning process is different. The number of patients we see is less at the same time. So, it's not like you're bumping into someone every second. Obviously, there are masks and social distancing.
You need to maintain your health care, visit your health care provider, in order to have a timely diagnosis that leads to a timely intervention that leads you to feel better and not have a long-lasting irreversible condition.
It's all about prevention, checking and then living a healthy life – getting exercise, eating well, getting your sleep.