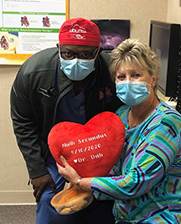 Kathy Shaffer was 'Nulli Secundus' or 'Second To None' When She Had Triple Bypass Surgery at MercyOne North Iowa Heart Center
"I had no idea that I had any heart problems," said Kathy Shaffer, 71, of Mason City. But on the morning of September 3, Kathy had trouble catching her breath, and after a consult with her doctor was advised to get to the ER right away. Kathy had suffered a heart attack, and after having an angiogram it was discovered Kathy had seven blocked arteries and needed a triple bypass surgery.
Said Kathy, "Many men on my side of the family have had heart problems, but the women haven't so I assumed I was ok. I had experienced some pressure on my chest when walking or exercising for 15 minutes or more, but I thought I was just out of shape, or attributed it to my acid reflux. What I have learned is heart disease symptoms are different for women than men."
"The Cardiothoracic Surgeon at MercyOne North Iowa Heart Center and I connected right away. I felt confident with him. He was very attentive, and after the surgery checked in on me 2-3 times a day," said Kathy.
"I couldn't eat very much after the surgery; I really had no appetite, but my doctor told me I had to eat to keep my strength up. He said, 'What sounds good to you? I said, 'Maybe a pizza.' So, he took out his credit card and he said, 'Order a pizza for Kathy and all of the staff that are taking care of her.'
"My surgeon said I was his #1 and his wife was ok with that," Kathy laughed. "His wife even made me a pillow that says in Latin, "Nulli Secundus" meaning "Second to None" with the date of my surgery.